Smothered Chicken - Low Carb
Annacia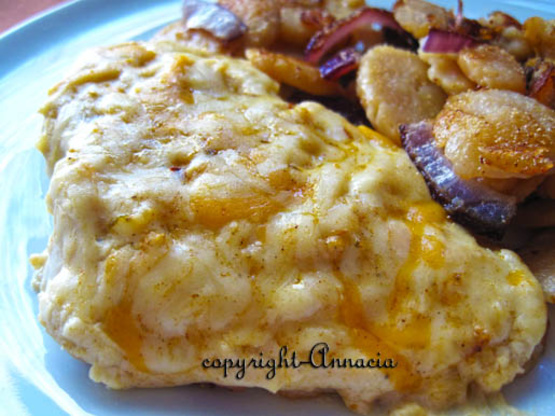 I got this recipe out of George Stella's cookbook then tweaked it to suit my tastes.

Very good. The only pressure cooked I have in the 12 qt canner, a bit much for 1 serving. I pan browned the chicken until almost done then put it in a small casserole for the oven. I thought that the Parmesan could have left out with the cheese on top (I used a marble cheddar). The chicken came out very moist and tender.
Preheat the oven to 350°F Sprinkle the breasts with salt & pepper.
Pour the olive oil into a hot pressure cooker then add the onions. Cook the onions for 5 minutes then add the chicken along with the garlic powder & poultry seasoning.
Put enough water in the cooker to just cover the chicken. Cover with the lid then cook for 10-12 minutes.
Meanwhile, mix together the ingredients for the sauce excluding the shredded cheese.
Once the chicken is done use a slotted spoon to remove the chicken along with the onions. Place them into a glass baking dish.
Spoon the sauce over the chicken then top with the shredded cheese. Bake in the oven for 15 minutes.