Ingy1171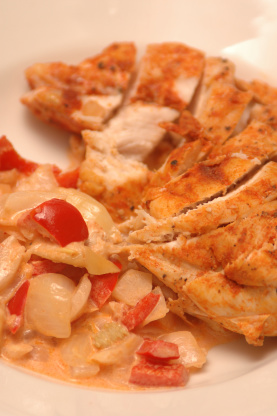 You can microwave everything in the same dish, including the whole head of garlic; once cooked, the cloves are soft enough to mash and the taste is mild and sweet. Recipe from Martha Stewart's Everyday Food.

I am always looking for microwave recipes as we are on the road for work a lot. I halved the recipe, and the garlic was a bit overdone. Even so, the taste was very good. Next time, I may pull the garlic out early.
In a 2-quart microwave-safe dish, toss onion with oil.
Place garlic in the center, cover and microwave on high 5 minutes.
Stir bell pepper and tomato paste into onion.
Rub chicken with paprika and 1/2 teaspoon each salt and pepper; place on vegetables, with the thickest part of breast facing edge of dish. Microwave on high 10 minutes or until chicken is cooked-throughout.
Remove chicken.
Remove garlic, slice off top, and squeeze cloves into small bowl.
Add mayonnaise and lemon juice; mash with a spoon.
Stir garlic into vegetables; spoon onto plates and serve chicken on top.