Chef Dee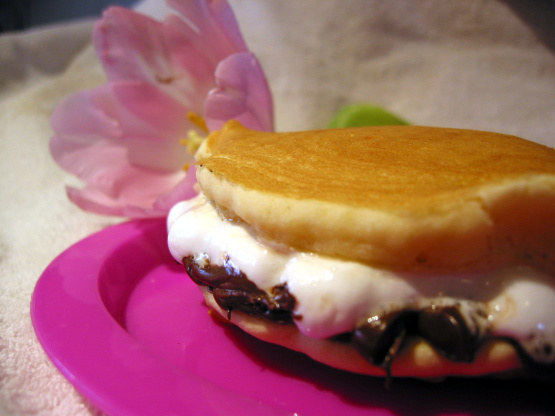 So simple, 3ingredients, I created these for my DD's slumber party breakfast. A real kid pleaser, and easy to eat in their hands.

Excellent! I used Hershey milk chocolate chips, recipe#72333 made with fat free butter and milk and 1/2 whole wheat flour, and marshmallow fluff since I was out of mini marshmallows. The is a REAL kid pleaser! With the pancakes made ahead and reheated, this breakfast came together LITERALLY in seconds. Thanks for posting a wonderful treat!
Lay the 3 pancakes on a large microwaveable plate.
Sprinkle with choc. chips and marshmallows.
Top with second pancake.
Heat on med high heat about 45 secs. or until chips and marshmallows are soft.
You may add more or less chips and marshmallows to your liking.
Serve with a big glass of cold milk.