S'mores Ice Cream (Homemade)
GotBoxer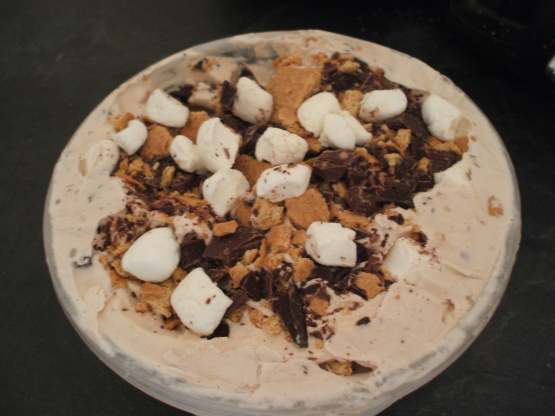 It's like camping without the bugs. I use one full sleeve of graham crackers, which is about 10 sheets and 4 Hershey Bars - but the 'zaar computer cant seem to read those amounts no matter how I type them in (?)

I made a version of this today. I did the eggs, sugar, cocoa and cream as written. i did 2 tsp vanilla, 5 trader joes graham crackers (they are thick, hearty and old fashioned with a cinnamony sugary top) and chopped 72% dark chocolate. I didn't have mini marshmallows so i *tried* to add marshmallow fluff by the spoonful, i got some in but it didn't want to incorporate well... either way, this tastes great!
With a mixer, mix the eggs for 2min until light in color and slightly fluffy.
Mix the cocoa powder into the sugar, then slowly add this mix to the eggs, mix for approx 1min longer or until well blended.
Add the cream, milk, and vanilla again mix until well incorporated.
Pour this mixture into your ice cream maker and freeze according to manufacturers directions.
About 2min before the ice cream is finished, add the remaining ingredients.
When finished scoop into container and if desired, top with additional crushed graham crackers, marshmallows and chopped or shaved chocolate.