flower7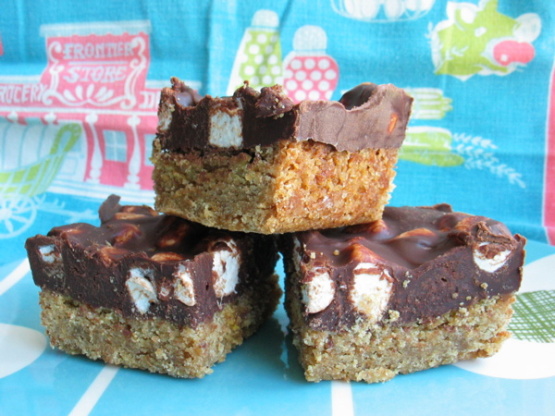 These are S'mores but less messy to eat. Kids love them. Times listed don't include chilling time.

These are awesome and very easy! I used semi-sweet chocolate chips and added more marshmallows - maybe 1 cup more; I started with 1 cup but after adding to the chocolate it didn't look like enough (I love marshmallows lol) so dumped in some more. Otherwise didn't - and wouldn't - change a thing. Thanks for the recipe!
Preheat oven to 350 degrees farenheit. Line an 8x8 pan with foil.
To make crust, crumble crackers in a food processor, add the flour, brown sugar and butter, process until it resembles fine meal.
Add the egg and mix only until moist. Transfer to pan and press into the bottom.
Bake for 20 minutes and let cool completely.
To make toppingplace cream in a saucepan and bring to a simmer. Remove from heat and add the chocolate, stir until smooth and completely melted.
Mix in the marshmallows and pour on top of the crust and spread evenly.
Chill for 2 hours and remove from pan and foil. cut into 2 inch squares. Keep refrigerated.