This is a great party dip or quick snack. Can make in microwave, on stovetop or even in the crockpot. From Pillsbury, it will leave you wanting S'more!!
Directions
In a small microwavable bowl, microwave choc. chips and condensed milk on HIGH 1-2 min until chips are melted (Be sure not to burn) mix well.
Pour into 9" glass pie pan, spreading evenly.
Drop marshmallow creme by Tablespoonfuls randomly over choc mixture.
Microwave on HIGH about 30 seconds or until creme is softened.
Immediatly with knife, make several small swirls through marshmallow and chocolate, creating mabled appearance.
Serve immediatly with graham sticks for dipping.
Reviews
Most Helpful
I made this for my daughter to take to a party in a glass pie plate. She said when they ran out of pretzels and graham crackers, they were using spoons to scoop it up! I used mini marshmallows instead of marshmallow crème (easier IMO) and put it under the broiler to toast the marshmallows. Later, she zapped it for a minute in the microwave to make it gooey again before serving. Would def make again ESP when you need a quick easy and yummy dessert/dip! Thanks for posting! PS - Kroger still makes the graham sticks as of 9-2013.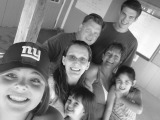 I made this for my son's Eagle Court of Honor. I wanted to honor the Boy Scout s'mores tradition, but I needed something simple, that would easily serve a large crowd, could be made ahead, and that was somewhat more elegant than regular s'mores. This was perfect! It seemed a little heavy on the chocolate to me, and I wanted more marshmallow, so I used more than the 1/2 cup of marshmallow creme, just randomly blopping spoonfuls of it over the chocolate. I served it more as a spread, with a knife, rather than a dip, in my 10" quiche dish. (I'm not sure they are making graham cracker sticks anymore. I certainly couldn't find any.) It lent itself to a beautiful presentation with graham cracker squares on a silver tray next to it, and absolutely everyone raved about it. I warmed it for a minute in the microwave right before serving. Next time I think I will stick it under the broiler instead, to toast the marshmallow fluff and warm it through, for more of a s'moresy effect. Thanks so much Rollin!