lets.eat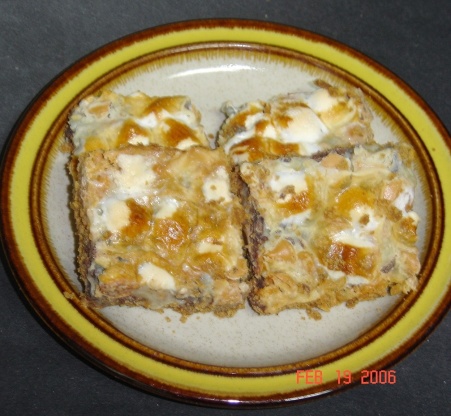 I know there's lots of different S'More bar recipes out there, but I couldn't find this one listed and want to try it soon! (This was taken from the back of an Imperial margarine package)

It good good, but rich. was out of the can milk. Here is what I used. It made then so good, I love the S'more Cookie Bars with this using the recipe below. Oh it take 2 batch for the cookie bars BY HELOISE SWEETENED CONDENSED MILK 1 cup powdered milk 1/3 cup boiling water 2/3 cup granulated sugar 3 tablespoons butter It's best to put the ingredients in a blender to mix until smooth. The longer you blend it, the thicker it gets. Just be sure that the mixture isn't grainy. Store any leftovers in a sealable container in the fridge. It make not quit a cup. Sure is good. Dix
Preheat oven to 350 degrees F.
In 13" x 9" baking pan, combine margarine with crumbs; press to form even layer.
Evenly sprinkle with chocolate chips, then butterscotch chips, then mini marshmallows.
Pour condensed milk evenly over mixture.
Bake 25 minutes or until bubbly.
On wire rack, let cool completely.
Cut into squares. (For easier cutting, refrigerate for 1 hour).