Katzen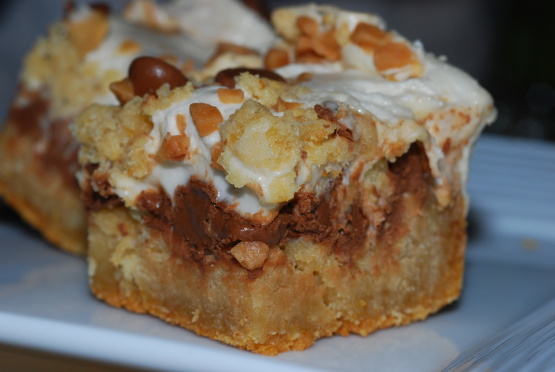 A recipe I found in my Simple and Delicious magazine that looks so yummy in the picture!! Posting here for safe keeping, Here is what the author of the recipe states: Once school starts, it can be hard for kids to let go of summer. But these rich, gooey, great-tasting bars will bring back sweet campfire memories—and smiles—whether they're served for dessert or as an after-school snack. Lisa DiPrima - Wilton, New Hampshire

These were a yummy summer treat! My BF says these are his favorite out of all the bars that I make. They are also one of the easiest. I used 3 chocolate bars but added 6 ounces of peanut butter chips. I baked them for 30 minutes and they turned out perfect! Thanks for the recipe.
In a large bowl, cream butter and sugar until light and fluffy. Add egg and vanilla; beat well. Combine the flour, cracker crumbs, baking powder and salt; gradually add to creamed mixture. Set aside 1/2 cup for topping.
Press remaining mixture into a greased 9-in. square baking pan. Place candy bars over crust; spread with marshmallow creme. Crumble remaining graham cracker mixture over top. Note: To easily remove marshmallow creme from a jar, place the jar in a pan of very hot water. Repeat this once or twice, and then spoon out the creme with a wooden spoon.
Bake at 350° for 25-30 minutes or until golden brown. Cool on a wire rack. Cut into bars. Store in an airtight container.