Kitty Z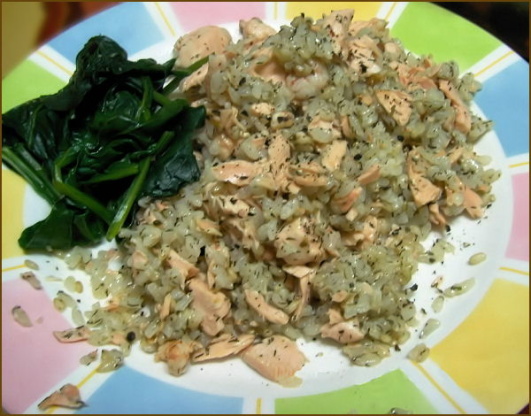 Creamy, flavoursome and an ultimate comfort food.

Very good! I'm not that skilled with risotto, and I was guessing on the burner setting, so I did have to keep adding water to the rice, and it took longer than 15 minutes to cook. But it turned out fine in the end. Since we had two side dishes, this was probably enough for four. Thanks!
Heat 1 tbsp of olive oil in a pan; add dried herbs, bay leaf and risotto rice when hot. Keep stirring for 5 minutes.
Make up stock and remove salmon skin/bone.
Add 1/3 stock to rice after 5 mins, add remaining until it is all absorbed (about 10-15 mins). Stir frequently.
While risotto is cooking, add 1 tbsp olive oil, lemon zest, creme fraiche and dill to hot frying pan. Wait until simmering--DO NOT BOIL.
Add salmon to frying pan and fry. This will take roughly 5-8 mins, turn twice until flakey and soft.
Add lemon juice, twist of black pepper and pinch salt to risotto, add shrimps and simmer for further 5 minutes.
Gently break up salmon into flakes using wooden spoon, and add to risotto. Remove bay leaves.
Serve hot. Garnish with lemon rind/bay leaf.