Smooth and Spicy Poblano Salsa
Rita1652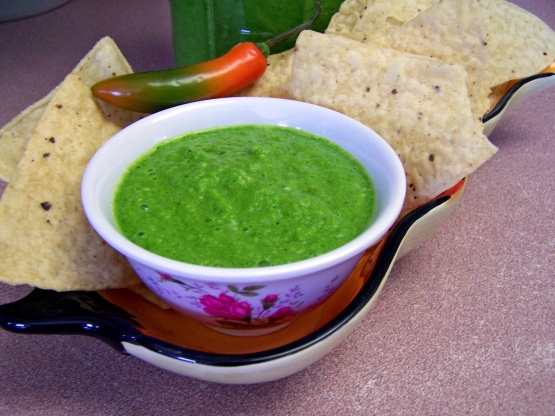 Adapted from Food Network Specials, this is wonderfully smooth and spicy! The Salsa can be used with fajitas, over tacos, enchiladas, burritos, etc.The recipe uses poblano, jalapeno and serrano chiles, so beware! If you like it spicy, this is for you!

AY CORUMBA!!!!! Very tasting salsa. Not much of a holiday person, so used some for tacos yesterday, and some more for those big tortilla chips. Makes a great dip. Made for 1-2-3 hits.
Place all ingredients in a blender(or food processor) and blend until smooth. Add additional water or lime juice if needed for smoothness.
This salsa is a delicate green and smooth, but it is Hot! Adjust types and amounts of hot peppers, to taste.