ImPat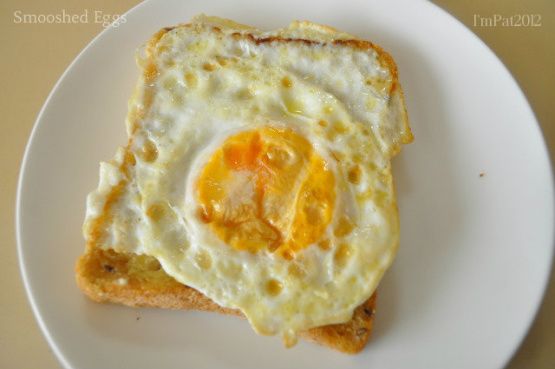 If done properly, these will be kind of like a fried egg sandwich on French toast (sort of). I can't believe my family's apparently kept it a secret for so long. :)

This is great for one of those mornings when you are rushing to get out of the house. I made one slice, but made sure I covered the "un-egged" side with melted margarine so it would brown up nicely. I still prefer plain old fried eggs and toast separately, but this is much quicker and tastes very good. I'm sure I'll be making this again on busy weekday mornings! Made for Everyday is a Holiday tag.
Melt a small amount of margarine in a frying pan large enough to hold two slices of bread.
Crack each egg into the frying pan as you would for fried eggs, but make sure they are far enough apart for the next few steps to work properly.
Place a slice of bread on top of each egg and "smoosh" it with a spatula.
Flip each egg and slice of bread over into the smooshed egg residue in the pan to coat as well as you can.
Flip eggs and bread back over until your eggs are as done as you like them.
If needed, flip them back over to the bread side until it starts looking kind of like French toast, and there is no raw egg left on the bread.
Salt and pepper eggs to taste.
If you wish you can put the two halves together to make a sandwich.
Add more margarine to the pan as needed to avoid sticking.