Bergy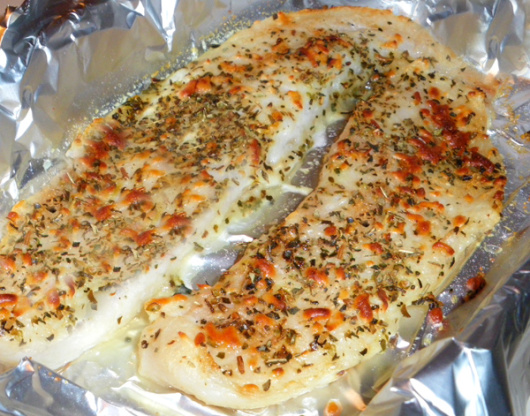 Ahhhh, I just had to put my zaar name on this one. I finally came up wtih one heck of a recipe, in my opinion and wanted to share it. One night, I was tired of measuring stuff out and trying to find a new way to cook my fish, so I combined some of my favorite flavors and came up with this. I'm thinking I may add a bit of ground red pepper to it too for a bit of a bite. Added: thanks for the great reviews!!! A note, I haven't used the dry garlic lately, as I'm really enjoying the freshly minced. I did try elephant garlic, because I got a ton of it free from a local farmer and it turned out much milder, but I liked it better with regular ol' garlic!

My family and I thought the seasonings were way too overpowering for the fish. I followed the recipe exactly as written.
4

ounces tilapia fillets
1⁄2 teaspoon garlic, minced (the dry, minced garlic is what I have been using when in a hurry)

1

teaspoon oregano
1⁄2 teaspoon basil

1

teaspoon parmesan cheese (I use veggie parm)

1

dash sea salt
cooking spray
Preheat oven to 400. Rinse tilapia and pat dry.
Spray a casserole dish with Pam spray and set fish in it.
Sprinkle seasonings over fish in the order they are listed.
Place in oven. Cook for 8 minutes or until fish flakes easily with a fork. I put it on broil the last TINY bit to get the cheese a little browned, but it's good without doing this too.