Smoky Tomato Soup With Gruyere Toasts
Prep 20 mins
Cook 20 mins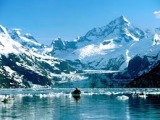 This is a very nice, creamy tomato soup recipe from Food and Wine Magazine. I like to make it in the summer with tomaotes from my garden. The gruyere toasts really make this recipe special, but the soup is delicious on its own. I especially like that it's a simple, quick soup with great flavor. Enjoy!
Directions
In a soup pot, melt the butter in the oil. Add the onion and garlic and cook over medium-high heat until tender, about 5 minutes. Add the paprika and cook until it gets fragrant, about 30 seconds. Add the tomatoes, water, thyme and bay leaf, then season with salt and pepper to taste. Bring to a boil. Cover and simmer until the tomatoes start breaking down, about 15 minutes. Discard the thyme sprig and bay leaf.
Preheat the broiler. In a blender, puree the soup in batches. Strain the soup back into the pot - pressing on the solids (use a strainer with larger holes. This just separates out the bits of tomato skin/seeds that didn't blend.) Stir in the cream and season with salt and pepper again, to taste.
Meanwhile, put the baguette slices on a baking sheet and broil 6 inches away from the heat until lightly toasted on both sides, about 2 minutes total. top the toasts with the Gruyere and broil for about 30 seconds more, until the cheese gets bubbly.
ladle the soup into bowls and serve with the Gruyere toasts. Enjoy!
Reviews
Most Helpful
We enjoyed this delicious soup for lunch today. I took the liberty of roasting off my tomatoes, onion and garlic in the oven and then adding it to the other ingredients. I used basil vs. thyme as that's what I had on hand. Will definitely make this delicious soup again soon.

I think what put this recipe "OTT" was the Spanish smoked paprika. I cooked the soup on LOW in a crock pot for about 3 1/2 hours. I accidentally purchased gouda not gruyere but no matter, it still tasted good! A garnish of fresh basil ribbons (sub for thyme which we don't like) was the final touch and the soup thickened up a little and tasted better the next day. I used my own roasted tomato puree and a few heirlooms chopped up. Went well with a simple salad with a cumin vinaigrette for an easy mid-week meal. Reviewed for Veg Tag/October.

This really made for a tasty lunch today. The cheesy croutes (toasts) put this OTT.