Smoky-Sweet Bacon Cheese Spread
flower7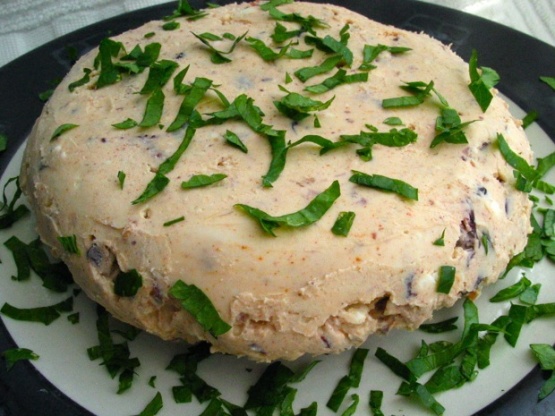 Who doesn't like smoky sweet salty flavors? This may be a mix of Mediterranean and Southwestern flavors but they really work well together. Give this as a gift in a basket along with things to serve it with and perhaps a bottle of ground chipotle chile powder. You could include a pretty serving platter and spreading knife as well. You can make tortilla wheels or stuffed mushrooms with this too!

This is a very interesting combination of flavors. I like the sweet- spicy- salty mix. The only thing I changed was to replace the ground chipotle, which I did not have, with hot/sharp paprika (brought back from Hungary). I served with crackers but since I have some left, I will be trying it wrapped in tortilla also. Thanks for sharing!
8

ounces neufchatel cheese

4

ounces feta cheese, crumbled (1/2 cup)
1⁄4-1⁄2 teaspoon chili powder, adjust to taste
1⁄4-1⁄2 teaspoon ground chipotle chile pepper, adjust to taste (smoked chile)
1⁄4 cup bacon, crumbled (I used Hormel real crumbled bacon bits)
1⁄4 cup kalamata olive, pitted and minced
1⁄4 cup dried cranberries, minced
1⁄4 cup dates, pitted and minced

2

ounces feta cheese, crumbled (1/4 cup)

To Garnish

chile powder, smoked or paprika
feta cheese, crumbled
parsley, chopped

To Serve

cracker
chips
pita chips
assorted crudites
egg, hard boiled
In a small bowl, cream together neufchatel and feta, scraping the bowl until well combined.
Beat in chili powder and ground chipotle powder and adjust to taste.
Scrape bowl and beat in bacon, olives, cranberries, and dates until well combined.
Stir in last 1/4 cup of crumbled feta cheese.
Put in a covered container and chill for at least 2 hours. The flavors will develop more the longer it sits. You can mold it by pressing plastic wrap into a bowl and pressing the spread into it, cover and chill, then turn out onto serving platter.
To serve, spread into a pretty bowl on a platter or mound on a platter. Sprinkle with feta, chili powder and fresh chopped parsley. Surround with desired foods.
For Tortilla Wheels, Spread this on flour tortillas, roll them up and tightly wrap in plastic wrap. Chill for a few hours until firm. Unwrap them, trim away ends and cut each roll into 8 slices crosswise to make wheels. You could try baking them too! I would try 400°F Place wheels on baking sheets and bake 15-20 minutes until browned.
For stuffed mushrooms, hollow out mushrooms, you can add some chopped stems to the spread. Fill mushrooms with spread and bake at 350F for 20-25 minutes.