Smoky Spinach Macaroni and Cheese
Redsie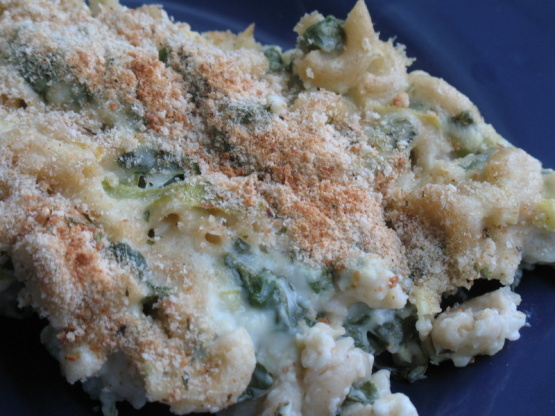 This is an interesting twist on an old favorite. Also a verrrry clever way of sneaking spinach into your family's mouths. Smoky, creamy and oh-so-satisfying.

I didn't have the smoked version of the cheeses, and I mixed some parmesan with the breadcrumbs. I found that even after doing that the topping was very dry and boring. Next time I'll only use 1/4 cup crumbs and maybe dot with butter. Still a nice way to get that spinach in though!
Preheat oven to 350°.
Melt butter in a large saucepan over medium heat.
Add shallots and garlic; cook 1 minute.
Add flour; cook 1 minute, stirring constantly.
Gradually add milk, cream, salt, and pepper, stirring constantly with a whisk until blended.
Bring to a boil; cook until thick (about 2 minutes).
Add cheeses; stir until melted.
Add spinach and macaroni to cheese sauce, stirring until well blended.
Spoon mixture into a 2-quart baking dish coated with cooking spray.
Sprinkle with breadcrumbs.
Bake at 350° for 15 minutes or until bubbly.