Smoky, Spicy Tomatillo Salsa Verde Aka Green Hell!
Bayhill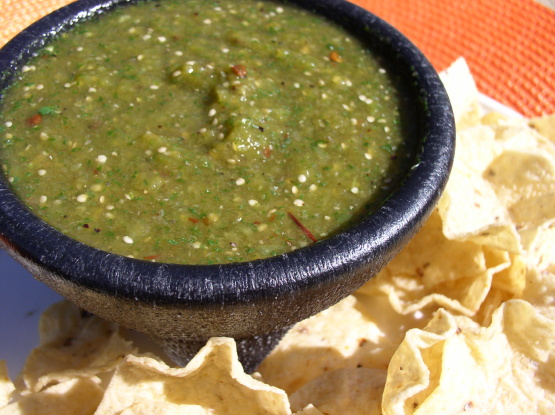 This is a very spicy, smokin, garlicy and refreshing salsa. Thanks to Nicca Chick I added Green Hell to the title! Love it!

I used a pound and a half of tomatillos instead of one, simply because I grabbed too much. Also, I cut the tomatillos in half and roasted at 500 degrees for about seven minutes instead of leaving them raw. Otherwise, followed recipe exactly, using two of the chipotles and only the cilantro instead of the three herb combo. AMAZING. Absolutely amazing! So good! Plenty of heat, but it doesn't hide any of the flavor. Kudos!
Put all ingredients into a blender.
Process till pureed.