Smoky Roasted Chicken and Corn Chowder
IngridH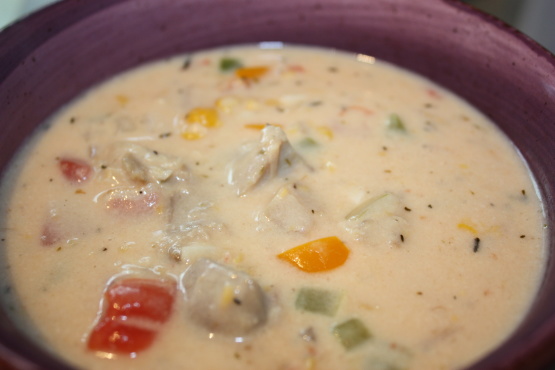 This recipe is out of Taste of Home's Healthy Cooking Magazine. A lightened version of a warm comfort food!

Made your recipe as written & wouldn't change a thing, because you have a wonderfully tasty chowder here! Although I usually use Hormel's Real Bacon Pieces in recipes like this, this time I did fry up the bacon (& the other ingredients in the bacon fat) & that added a great flavor to the whole thing! Many thanks for sharing the recipe! [Tagged & made in Please Review My Recipe]
Cook chopped bacon in a large non-stick soup pot over medium-high heat until lightly browned but not crisp. Stir in onions, celery, red pepper, and garlic. Cook and stir until vegetables begin to soften, about 5 minutes.
Add thyme and flour. Mix well. Stir in broth and evaporated milk. Bring mixture to a gentle boil and stir continuously until soup thickens slightly.
Reduce heat to medium-low. Stir in remaining ingredients. Cover and let simmer for 10 minutes, stirring occasionally. Serve hot.