Nimz1466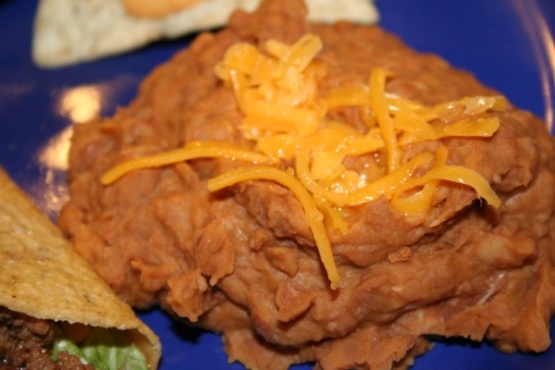 Once you've made your own beans you will never go back to the can. There simply is no substitute. They are quick, simple, and delicious.

I've been making these for years but I always have roasted garlic cloves on hand as well as cilantro pesto that I make and freeze in ice cube trays. So what I do is put a cube of thawed cilantro pesto and a few cloves of roasted garlic in the pan, flatten the garlic with a spoon and then continue from there as directed. Then I top with queso or Mexican 4 cheese and heat in the microwave until the cheese just melts. This ia a simple and yummy recipe. I like the mixture of whole and mashed beans. If you want a tip for mashing, try a potato masher rather than a fork. These can be so easily adapted to different tastes just by adjusting spices. If it's too mild, you can always add jalapenos or even hot sauce to taste. Personally I like the amounts of cumin and chili powder, but I think my cilantro pesto and the addition of cheese adds more dimension.
Heat oil in a heavy skillet over medium-low heat.
Add whole garlic cloves and cook, turning once, until browned on both sides, about 5 minutes.
Smash garlic cloves with a fork just enough to break them open and flatten them a little.
Add pintos and liquid and cook until heated through, about 5 minutes.
Add spices and salt to taste. Stir well.
Turn the heat down to medium-low and smash beans with a big fork. You don't have to smash every single bean. Leave some whole for texture.
When mashed to your liking, squeeze the lime juice all over the beans and serve warm.
These beans make a great taco filling or tostada topping. My husband likes them mixed with a little salsa and eaten as a dip.