Smoky Potato and Roasted Cauliflower Soup #5FIX
tambocos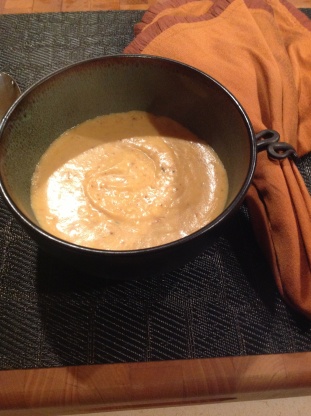 5-Ingredient Fix Contest Entry. Super easy, super quick! Easy on the waistline and easy on the wallet. The cauliflower makes this spicy soup light on calories.

This soup is quite tasty. Unfortunately, I could not find the potatoes anywhere, so I substituted my own. The only other change I made was to reduce the amount of chipotle peppers -- way too much heat for me. This made a nice lunch today. Made for Spring PAC, 2014.
Preheat oven to 450 degrees. Chop cauliflower and place evenly on a sheet pan and roast in oven until tender and slightly charred. About 15 to 20 minutes.
In a large pot, heat chicken broth over medium high heat. Chop chiles and add to broth. Add mashed potatoes and stir until incorporated. Bring to slow boil. Add salsa con queso and roasted cauliflower.
Using a stick blender or standing blender, puree soup until smooth. Bring to a boil and reduce to simmer for 10 minutes.