Smoky Orange Rice - Rice Cooker
Rita1652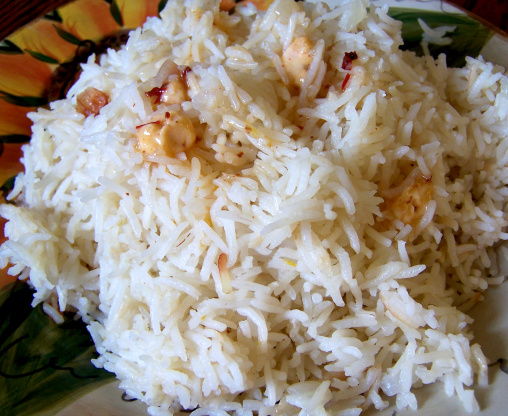 This is so easy and has a light taste from the orange butter and smokiness from the chipotle butter. I make these compound butters and then freeze them for when I need them. Can be made stove top as well adjust water. This would be great accompaniment for things like General Tso's Chicken, Under a plate of smoky black beans, grilled fish ....

I don't own a rice cooker anymore and I cheated unashamedly by using Tabasco Chipotle instead. The combination of saffron and chipotle was earthy and intense. The Walla Walla onion did itself proud. Served with roasted turkey breasts and cilantro salad. Definitely making this one again very soon! Reviewed for Herb Tag 2009.
In your standard Rice Cooker place the rinsed Basmati rice using the cup provided.
Fill up with water to the 2 cup level in the rice cooker.
Add the saffron, butters, salt, pepper and onions to the cooker.
Gentle stir.
Turn the rice cooker on to the Cook cycle.
When ready to serve, fluff and top with additional butter if desired.