Smoky Citrus Pork Tenderloin
momaphet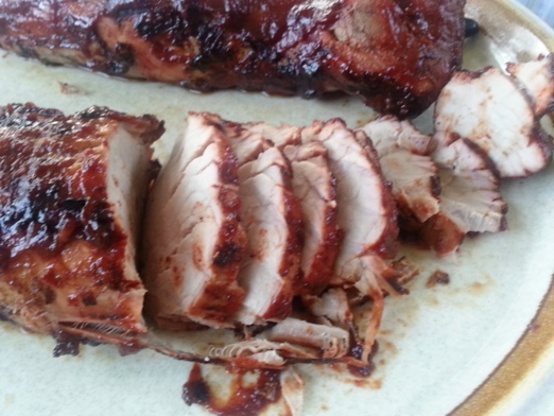 The recipe is from Kraft. The citrus flavors are wonderful with this spicy and moist tenderloin. The original recipe calls for a chipotle barbecue sauce; however, a diced chipotle in adobo can be used or chipotle ground chili powder. There are 2 cooking methods as when I originally made this the grill wasn't doing its job. Either on the grill or in the oven this is a wonderful recipe.
Amazingly , DH says 10 stars!!! I love pork loin and this one was moist, flavorful, and delicious. I marinated my meat for about 4 hours. I used Larry's Smokehouse BBQ Sauce which is a thick sweet/slightly spicy sauce - I loved the addition of the chipotle - I used half of one, and added some orange juice concentrate and orange zest to it also which came out as this very lovely back taste to the zesty sauce. I seared the pork over the flame on the grill first then moved it to the no flame side. I kept the BBQ between 350 and 400; I have an old grill and put an oven thermometer inside to keep track and use a digital probe thermometer so I could pull it out right at 155 degrees and then let it rest for 10 minutes. The meat came out super tender and the sauce on it had just the right amount of zip! Thanks Paula for another great recipe. Made for ZWT 9 by one of Mike and the Appliance Killers.
In a small bowl, mix togther the citrus zest, juice, garlic, salt, pepper and cumin.
Place the tenderloin in a resealable plastic bag and pour the marinade over; refrigerate for 30 minutes, remove meat and discard bag and marinade.
Preheat the grill to medium heat and place the meat on one side of greased grill, turn off burners directly below the meat; cover grill with lid and grill for 30 minutes or until cooked through.
In a small cup measure out the barbecue sauce and add one of the chipotle options listed to the sauce, stir to mix completely, divide the sauce in half and use half the spiced up sauce to baste the meat frequently the last 10 minutes of grilling time. Use the reserved sauce to serve over the sliced meat.
If preparing in the oven, place in a 425 degree preheated oven and roast for 30 minutes or until done; basting frequently with the sauce.
When done, slice into medallions and serve with reserved 1/2 cup of sauce.
Please note: The internal temperature of the meat should register 160 degrees F on a meat thermometer.