Rita1652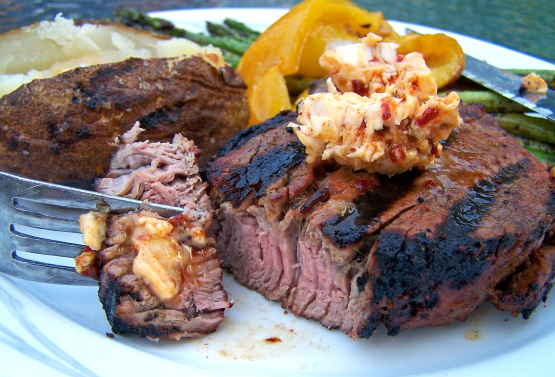 This sweet and spicy butter is great on almost anything.

I made this for dh to put over his "re-fried" steak (read: leftovers), and he loved it! Great summer lunch! The leftovers will be served over grilled shrimp this w/e when our friends are coming for dinner. I'll probably add a little fresh cilantro over the top...
Place softened butter into bowl and add all remaining ingredients. Mash with fork until mixed. Spread clear cling wrap on table and spoon out butter to create a long log. Fold clear wrap over the butter log and using fingers, shape into a smooth log. Wrap tightly and place in freezer for 30 minutes to harden or refrigerate for 4-6 hours.
Slice into coins as needed.
Place the "coin" on the steak, chicken, seafood or veggies just as they are coming off the grill.
Store the unused butter in the refrigerator for up to 1 week.