vrvrvr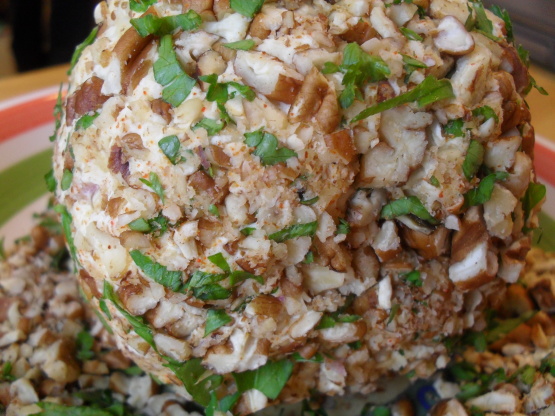 This can be stored in your fridge for up to a week, which makes it perfect for party planning. I serve it with crackers or pumpernickle bread (the small party type loaf).

I made this for a work potluck and most people loved it. The mustard flavor was a little too much for me (but I'm a little biased on that, because I'm not a tremendous fan of mustard), but all in all, it was good and really easy to throw together. I was so impressed how easy it was to find the two cheeses at the grocery store too. Thanks!
Combine first 5 ingredients in a medium bowl; beat at medium speed with mixer until smooth.
Cover and chill at least 3 hours.
Shape mixture into a ball.
Combine pecans and parsley; roll cheese ball in pecan mixture.
Let stand at room temp at least 30 minutes before serving.