Smoky Barbecue (Bbq) Chicken Pizza
gailanng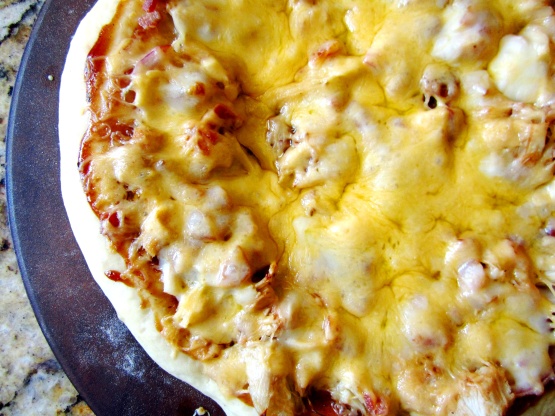 Had some leftover BBQ sauce and some left over chicken, but not much of either so I made pizza. Don't overcook the bacon before you put it on the pizza since it will cook in the oven, too. Use your favorite BBQ sauce but go easy on it...a little goes a long way. Adjust the amount to the thickness of your crust. I use about a third of a cup for a thin crust, use more for thick.

Two of my kids wanted pepperoni pizza for dinner and one of my kids wanted grilled chicken. I found your recipe and was able to please the one who wanted chicken! What a great combination of ingredients for pizza! We just loved it. I used Sweet Baby Ray's BBQ sauce, pizza crust from an Italian market near my house and a purple onion (sauteed first). Gouda is not a cheese I've ever had, so to be on the safe side I just used all mozzarella. Someday I'll try it with gouda. Thanks for posting such a great recipe.
Preheat oven to 400.
Combine chicken breast with 2 T of barbecue sauce.
Spread crust with 1/3 cup barbecue sauce; more if you like it saucy!
Top with chicken, onions, bacon and cheese.
Bake 10-12 minutes or until crust is lightly browned and cheese is melted and bubbly.