Rita1652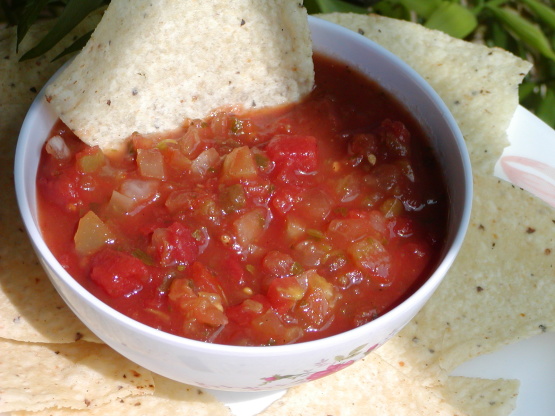 This salsa has a slight twist to it! Why Smoking? Besides the heat from the hot peppers you have a smokey flavor going from the chipotle peppers. Then optional for those that like it real hot use ghost chilies. This makes nice little gifts, just pack a basket with it and some chips, avocados, cheese, beer or margarita mix etc.

This salsa has become my favorite!!! LOVE LOVE LOVE it!!!
10

cups meaty tomatoes, diced seeded and peeled (I don`t peel more vitamins and easier)

2

cups bell peppers (red or green)

2

cups onions, diced

4

jalapenos, seeded and deveined veins can stay in if you like it hot

1 -3

teaspoon salt, to taste

1

(12 ounce) can tomato paste

1

(4 1/2 ounce) can diced green chilies (for extra heat) or 2 fresh ghost bell peppers (for extra heat)

2

tablespoons sugar, use to taste if tomatoes are sweet can skip

1

fresh lime, zest and meat

1

cup vinegar, 5% acidity

1

cup packed cilantro, chopped
In a food processor, process with the metal blade the meat of lime, jalapenos, garlic, and chipotle peppers and ghost chilies if using till minced fine.
Combine all ingredients in a large saucepan stir to mix well and cook for 10-15 minutes.
Ladle into hot jars leaving 1/2 headspace.
Remove any air bubbles.
Clean rims and adjust lids.
Process in a boiling water canner for 15 minutes.
Remove from bath and cool in a wind free area.
Label and store in a cool, dark, dry place.