Smokin' Hot Caribbean Spiced Corn on the Cob
lazyme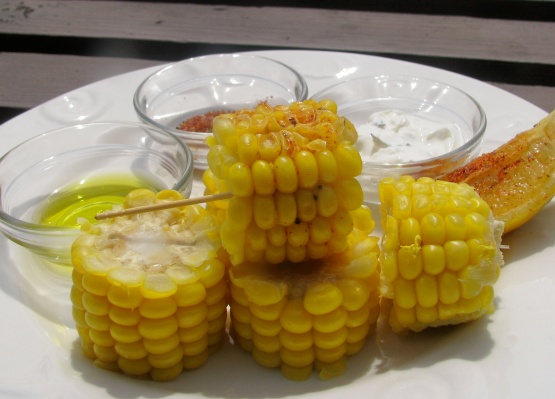 A popular dish in the Caribbean. You can change up the spices to your liking. You could also use soy or other non dairy yogurt or sour cream to make this vegan. From Sue's Nutrition Buzz.
We really enjoyed the corn this way, the spices with the olive oil and orange were just yummy! I used a pinch of cayenne and some chili powder so not to be too hot. I misread the recipe and mixed the spices into the oil which worked out fine. I liked that I didn't miss butter at all! The only down side for us was the mint sauce, we both felt like it didn't go at all flavor wise , so skipped it after the first bite. Thanks for a great recipe Sharon! made for ZWT 9 Caribbean by one of Mike and the Appliance Killers
Grill corn on grill or you can steam or even boil the corn.
Mix all the dry spices together.
Dip an orange wedge in olive oil, dip into spice mix and rub into corn.
Cut corn into bite size pieces and stick a tooth pick inches.
Blend yogurt with mint and 1/4 tsp salt till smooth.
Serve corn with yogurt mint dip.
Note:.
Use any blend of your favorite spices ! Good spices to use are cumin, paprika, garlic powder, ginger powder, curry powder, etc.