Smokey Brussels Sprouts Bake
Boomette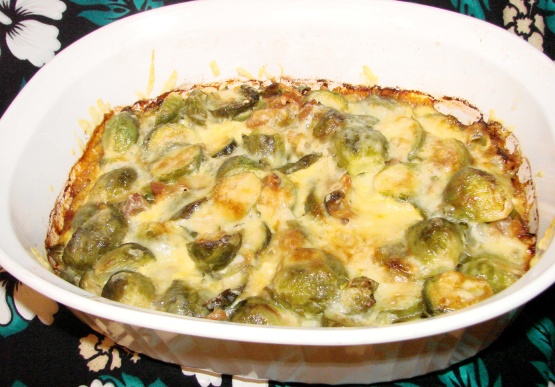 An interesting way to prepare B sprouts.
I had a hard time deciding which rating to give. I like brussels sprouts. I liked the smoked cheddar cheese I put on top. The cheese makes all the difference. The part where I'm not sure is the eggs. And I used 2 eggs. Kind of weird for me. I think I'd enjoy more without eggs. Thanks Parsley :) Made for Bargain Basement tag game
Preheat oven to 425°F Lightly grease/spray a casserole dish and set aside.
Cut each sprout in half. Bring a pot of salted water to a boil; add sprouts and cook until desired tenderness -- about 7-10 minutes. Drain.
In a bowl, whisk together eggs, milk, white pepper, onion salt, nutmeg, worcestershire, and crumbled bacon. Toss this mixture with the drained Brussels sprouts.
Pour sprout mixture into prepared casserole dish. Sprinkle with the cheese.
Cover with foil and bake at 425 for 15 minutes.
Remove foil and cook an additional 10 minutes to lightly brown.