QG6380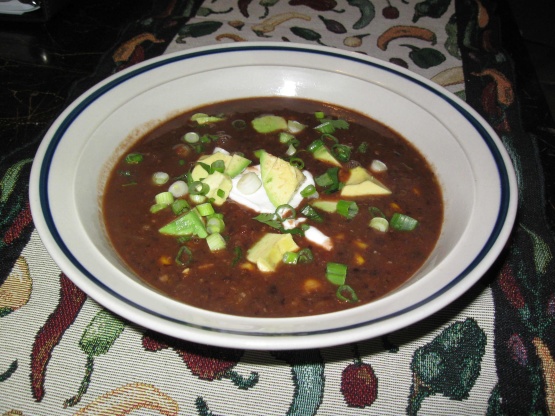 I made this when I was coming down with cold symptoms and wanted a comforting soup that I could taste despite my stuffy nose. I thought it was geat so I thought I'd share. Please note: There is NO substitution for smoked paprika. Servings are totally guessed.

Top Review by QG6380
Very good soup. I made only a few small changes, but otherwise followed recipe exactly. I added a minced jalapeno with the onions and celery. I used a second can of black beans. I pureed nearly the whole batch with a stick blender. I added a handful of frozen corn and several dashes of Mexican hot sauce near the end (after the blending). Then I garnished each serving with sliced green onions, cilantro, diced avocado, and sour cream. Lime wedges would have been great if I'd had any.
Heat the oil in a pot over med heat.
Add the onions, celery and garlic and saute for about 5 minutes.
Add the broth, tomatoes, cilantro, cumin, and smoked paprika. Bring to a soft boil. Reduce heat, and cover and simmer for 20 minutes.
Add the black beans and simmer for an additional 10 minutes.
Stir.
At this time, if desired, puree 1/3 to 1/2 of the soup for a thicker texture. Totally optional.
Add salt, if needed.
Serve garnished with a dallop of the optional FF sour cream.