Smoked Whole Brisket With Burnt Ends
Rita~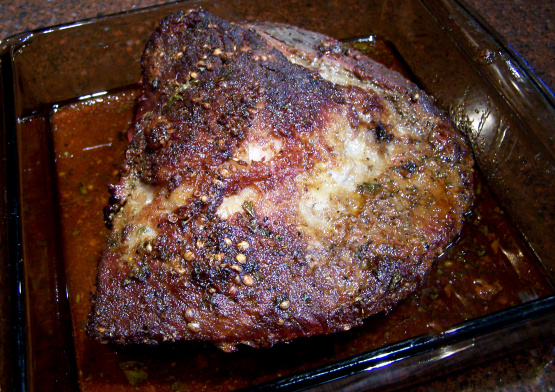 This is for a smoker. If yours burns wood, just ignore the smoke wood suggestions. I used a charcoal smoker and a water pan. The cut of meat is a whole beef brisket which includes the brisket "flat" and the "point." It's also called a packer brisket. You can of course, just cook brisket flats which are more available and skip the burnt ends which I make with the point. Burnt ends have crunchy exteriors and are popular in Kansas City and parts of Texas.

Made three of these bad boys for our dd's baby shower Barbecue- (Baby Q! lol ) Everyone loved this brisket and even had guests asking for seconds and thirds AND to take some home if possible! We still had some left over bc we did 3 LARGE Texas sized briskets so that was so not an issue. We shredded the meat and froze what we did keep for ourselves. This is fabulous over a loaded baked potato with just some meat mixed with sauce right on top. Easy anytime meal. Also makes great sandwiches! Thanks RAG for another great recipe that turns anyone into a master griller!
Toast coriander seeds for 3 minutes in an iron skillet over medium heat.
Grind the seeds in a spice grinder or mortar and pestle.
Add the rest of the spices and sugar and blend.
Rinse the brisket and dry.
Cover lightly with Worcestershire sauce.
Sprinkle and rub the dry rub onto all sides.
Use about 1/3 cup of pecan pellets or chips and encase in heavy duty aluminum foil. Punch one small hole in the packet and toss onto the coals. If using chunks of pecan, add 4 pieces (3x3x3 inches) to the coals at the start of the cook.
Cook at 250°F to 300°F indirectly over charcoal. The cook time will be about 3/4 to 1 hour per lb at 250°F to 200°F smoker temperatures. A flat by itself cooks for a little over an hour a pound.
When internal temperature reaches 170°F, Wrap in two layers of heavy duty foil and return to the smoker.
Remove the brisket when internal temperature is 195°F to 200°F taking care not to spill the hot juices on you or others.
Let it rest for at least 45 minutes.
Carefully drain the juices into a container and refrigerate to remove fat.
After it cools a bit, use heavy rubber gloves or a knife to remove loose fat and separate the brisket flat from the point. There is a layer of fat that separates the two and the meat grains of the point and flat run perpendicular to each other.
Place the point back on the smoker for an additional hour.
Meanwhile, use a sharp, long knife or electric knife to slice the flat, cutting across the grain with the knife blade perpendicular to the direction of the grain of the meat.
After an hour, remove the point and cut into 1 inch cubes to make burnt ends.
Place the cubes in an aluminum pan and return to the smoker for another hour.
Defat the juices and either add to the sliced brisket or use in a sauce recipe.
Use your favorite sauce and place or buns or serve directly with barbecue sides.