teresas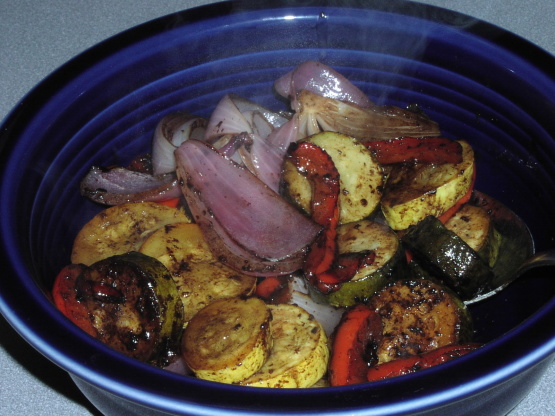 Having grilled vegetables before I thought smoking them might be good as well. This is a base recipe and any combination of vegetables can be used.

What a yummy veggie dish...I wasn't sure how the family was going to react so only made half a recipe...well I should have made more...I used a dark balsamic vinegar...that may be why my veggies were on the dark side...I cooked it in the oven and omitted the potatoes...made for Papa D's Cook-a-thon...you will be missed...RIP
2

zucchini, sliced in 3/4-inch-thick disks

2

yellow squash, sliced in 3/4-inch-thick disks

1

medium red onion, cut into wedges

1

red pepper, seeded and cut into strips

6

small red potatoes, cut into chunks

balsamic vinaigrette

1⁄3 cup extra virgin olive oil
1⁄4 cup balsamic vinegar

2

teaspoons Dijon mustard
1⁄4 teaspoon salt
1⁄8 teaspoon pepper
Vinaigrette: In a bowl combine olive oil, balsamic vinegar, Dijon mustard, salt, pepper and whisk until all is well blended.
Vegetables: Place all the vegetables in a 8-by-12-inch casserole dish.
Pour the balsamic vinaigrette over the vegetables and toss, making sure the vegetables are well coated.
Put the dish of vegetables in a 225°F smoker for about 4 hours.
These can also be baked in a 350°F preheated oven for about 45 minutes.