Smoked Trout Linguine With Asparagus and Lime
Jostlori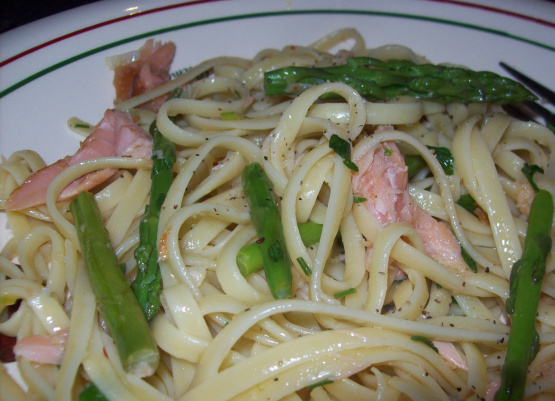 They make the most amazing smoked trout here in Costa Rica and I've been looking for ways to use it other than as an appetizer. This is my take on a smoked salmon pasta dish I had once-upon-a-time! Note: this would probably be better with lemon, but they're almost impossible to find here. Let me know if it's an improvement!
In a small bowl, whisk together the lemon juice, olive oil, chile flakes and garlic. Set aside.
Cook pasta till al dente. Drain and return to pan.
Meanwhile, blanch asparagus till crisp tender. Drain and set aside.
Add the juice mixture, asparagus, trout, parsley and green onion to the drained pasta. Toss to combine. Season to taste with salt and pepper.
Serve in pasta bowls and garnish with chopped parsley.