Smoked Trout, Lemon & Fennel Pasta
Jostlori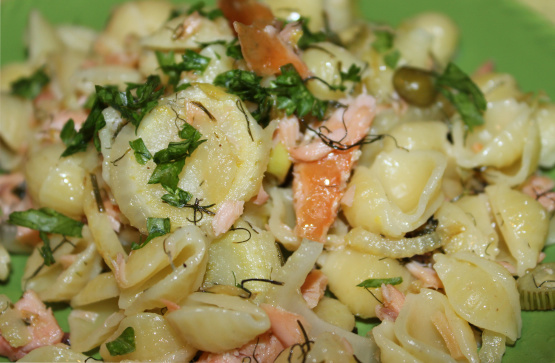 A delicious spring and summer pasta dish. You can use any shape pasta you prefer.

This was a nice dish, and other than using a different shape pasta, we followed the recipe exactly. Next time, we'll increase the amount of fennel and not cut it as thinly, because we felt the flavor got a little lost. The combo of the lemon, fennel and capers was really complementary to the smoked trout. Thanks for posting! Made for My 3 Chefs 2013.
Cook pasta in boiling water according to pack instructions, drain.
Heat 1 Tbsp olive oil in a frying pan over medium-low heat, add the fennel and cook for 3-4 minutes, stirring occasionally until softened.
Add capers and the zest and juice from the lemon half. Flake the smoked trout and add to the pan. Add most of the parsley to the pan and the fronds from the fennel. Stir to combine, heat through and season to taste.
Gently toss the trout mixture through the pasta and sprinkle with remaining parsley.