Smoked Tomato Salad Dressing
Ms B.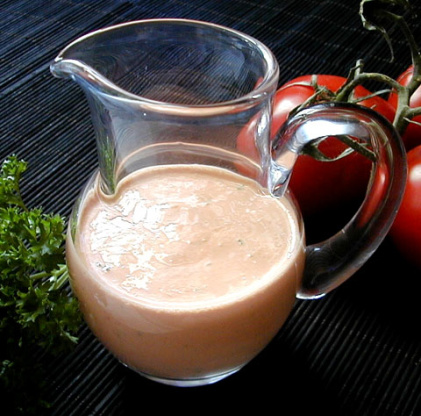 The cooking time is actually the marinating time.

Top Review by Ms B.
Wonderful flavor combination! I did cut the mayo back to only about 1/2 cup, as I really don't care for heavily mayo-ed salad dressings. The smoky tomato flavor came through beautifully. I didn't remove the skins from the tomatoes, either, but did seed them. This is a great dressing that adds an extra veggie boost to salads. Thanks for posting.
Cut tomato in half horizontally.
Squeeze out all juice and seeds into the sink or dustbin.
Chop tomato flesh into bite-size pieces.
In a bowl, combine olive oil, Liquid Smoke, sugar, salt and garlic.
Add chopped tomato.
Marinate 45 minutes.
After marinating, place tomato mixture into container of blender and blend 1 to 2 minutes.
Add capers, mayonnaise and parsley.
Blend an additional 3 to 5 minutes.
Refrigerate.