Smoked Sausage with Cabbage and Apples
Bergy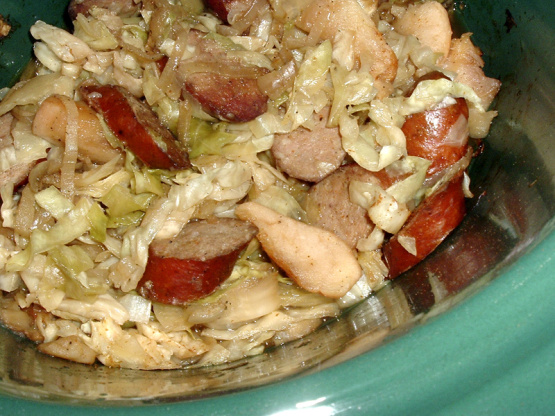 Another recipe that came with my new crockpot. Haven't tried it yet but will very soon. (I'm guessing at the servings yielded)

Hubby loves smoked sausage, apples and cabbage so I thought this was a perfect dish and it was!!! He loved it!!! I only had cocktail smokies and they were fine. I got a late start and so I cooked on high for 4 hours. After 3 hours the original apple juice had disappeared and I had to add more apple juice. Next time I'll start with a cup of Apple Juice. Thanks for posting!!!
Layer the sausage, apples, cabage and onion in crockpot in the order listed above.
Sprinkle the brown sugar, salt and black pepper on top.
Pour the apple juice over all the other ingredients.
DO NOT STIR.
Cover and cook on LOW 6-8 hours or HIGH 3-4 hours.