munch224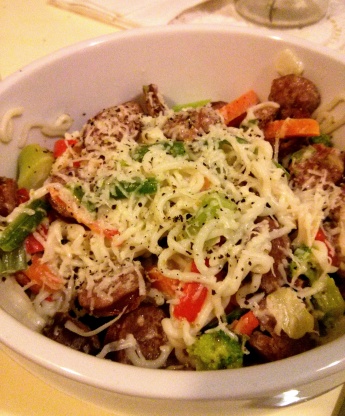 From Simple and Delicious - submitted by Misty Church (Sept/Oct 2007 issue). Very nice meal to throw together in less than 30 minutes. It was a hit with our family!

My family loves this, I had the issue of the mag. it came from and have made it more then enough times, I am glad to have found it on here because during our move I lost the magazine. I don't put the broccoli in there because my husband isn't a fan but its still great without it!
8

ounces spaghetti, uncooked
1 1⁄2 cups frozen broccoli florets
1⁄2 cup sweet red pepper, julienned (yellow or green will work too or a combination)
1⁄4 cup onion, coarsely chopped
1⁄2 lb smoked sausage, cut into 1/2 inch slices
1⁄4 cup water
3⁄4 cup evaporated milk (I used non-fat)

2

tablespoons butter
1⁄2 teaspoon italian seasoning
1⁄4 cup parmesan cheese, grated
Cook spaghetti according to package directions adding the vegetables during the last 4 minutes.
Meanwhile, in a large skillet, bring sausage and water to a boil.
Reduce heat, cover and simmer for 8 minutes or unti heated through.
Add milk, butter and Italian seasoning; cook and stir until butter is melted.
Drain spaghetti & vegetables and return them to the pan.
Add Parmesan cheese and sausage mixture to the pasta & veggies - toss to coat.
Serve immediately.