Smoked Sausage Pepper & Mushroom Wrap
Bergy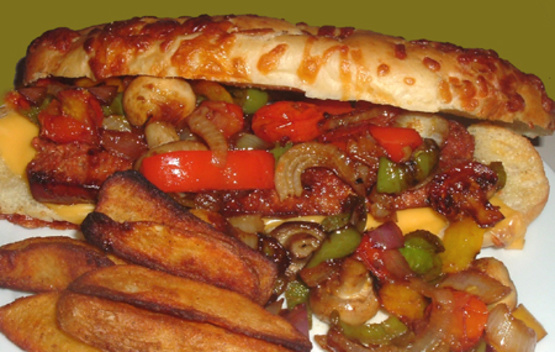 I dedicate this recipe to Inge1505 her Smoked Sausage, Bell Peppers and Tomatoes Smoked Sausage, Peppers & Tomatoes it inspired this recipe This recipe is quick easy and tasty.. I served it for dinner but It would make a nice lunch too Use any favorite smoked sausage mild if you don't care for spicy. Use any tortilla corn, white, jalapeno or like I did whole wheat.. If you want more spice add a few drops of hot sauce to the stir fry. If you like serve this on a "Sub" bun instead of a tortilla. Throw in some tomatoes too!

This was a very quick and easy recipe; we loved the flavor combinations; and the clean-up took less than 5 minutes. What more could you ask for in a recipe? Our market did not have Hungarian sausage and i don't know what it is, so we settled for Polish sausage, which we knew that we liked. The only problem I had was in trying to cook it long enough to reduce the liquid. After 20 minutes, I gave up boiling it and drained off what I could. Maybe my problem was that I was using a wok so there was less surface area on the liquid i was trying to reduce. I also used hand made flour tortillas from Trader Joes -- yum.
Brown the sausages lightly, add peppers, onion, garlic and mushrooms.
Stir fry for apprx 5 minutes.
Pour in the Italian dressing, let it bubble and reduce to nearly nothing - stir the veggies and sausage. as the dressing reduces.
Season with Salt & Pepper.
Place a sausage and half the veggies on a tortilla, roll and enjoy.