Smoked Sausage & Pasta W/ Cheese
Parsley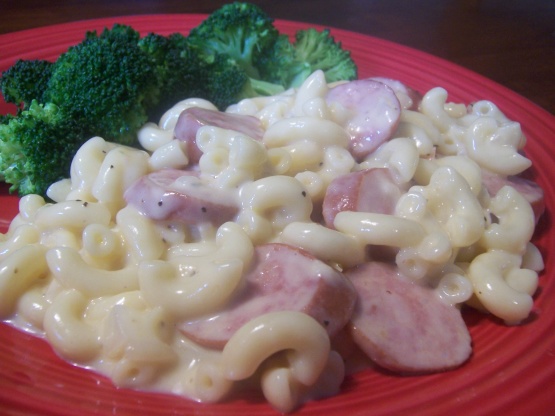 I was looking for something simple to fix for dinner and I wanted to clear some things out of my freezer and cupboards, so I came up with this. This recipe only uses 1/2 pound of meat for 4 servings. So I would also call this economical as well. The cooking time includes the time for cooking the pasta. Posted on March 16th, 2006.

Great pasta! I used Guy Fieri's Unyawn's Smoked Cajun Style sausage, penne pasta and sharp cheddar instead of Velveeta. Quadrupled the recipe without any problems. The co-workers I made it for loved it! Thanks for sharing! ***Made for Fall PAC 2011***
Cook pasta according to package directions, drain and set aside.
Mix together flour and milk, set aside.
In a medium sized skillet over medium heat, add oil, sausage, and onion.
Cook until lightly browned.
Add pasta, milk, and Velveeta.
Stir until cheese is melted and pasta is well coated (if at this point you want it creamier and a little more milk), add salt and pepper.
Enjoy.