Smoked Sausage, Bell Peppers and Tomatoes
Bergy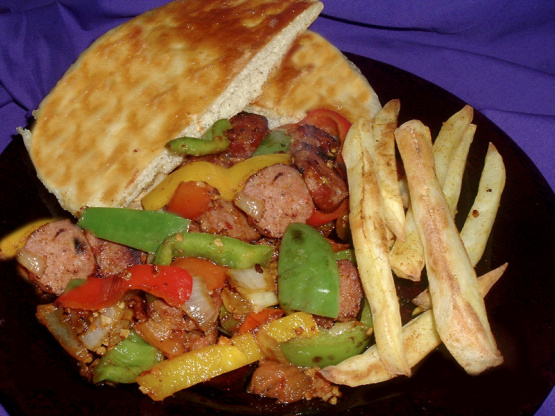 A colorful, savory dish that is good with crusty bread or rice. Supposedly a Hungarian dish, try using differently colored peppers, sweet Hungarian paprika and Hungarian smoked sausage called debrecini sausage. But it should be a good dish if you sub with other very mild paprika and kielbasa.

Top Review by Bergy
Inge I have used your recipe ingredients, cut the recipe in half and changed the order of cooking - I hope you don't mind. You see I like my peppers just warmed through and still crisp. The flavor of your recipe is fantastic!. The only thing I cut back on was the oil & only used 1/2 slice of bacon. I sauteed the bacon, onion & sausage first for apprx 10 minutes, added the garlic, chili & paprika, continued to cook for 3 minutes then added the peppers and the tomatoes, mixed well and sauted for 5 minutes- perfecto! Served with a Pita Bread & oven fries
Heat oil over medium high heat in a wide non-stick skillet. Cook bacon and onion until onion turns yellow, about 3 minutes.
Reduce heat to medium, add garlic and bell pepper, and, stirring frequently, cook until bell peppers are tender-crisp, about 8-10 minutes.
Remove skillet from heat and wait until cooking subsides or paprika might burn and give a bitter taste. Add paprika and red pepper flakes. Add more pepper flakes if you like it hot. Stir until all is evenly coated with paprika.
Mix in tomatoes, return to heat. Reduce heat to low and cook covered 5 minutes.
Carefully mix in sausage and cook covered over low heat 15-20 minutes.
Taste with black pepper. There should be enough salt from bacon and sausage. Serve.