Smoked Sausage and Cabbage
Bergy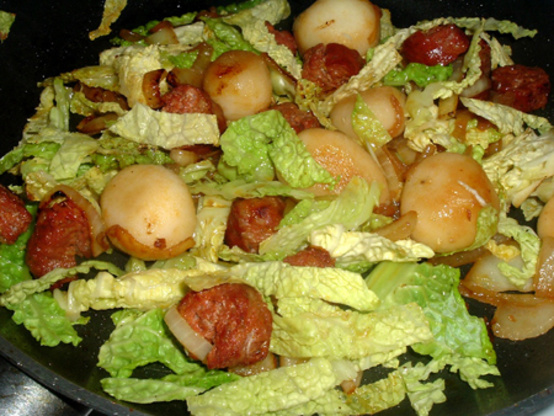 I concocted this recipe while trying to decide how to cook cabbage besides the same ole way. My husband, KT, loved it that I didn't even have to ask him to rate it. He went back for thirds! I used 1/2 cabbage and wished there was more, so next time I'll use whole head. Great flavor w/the sausage grease soaked up in the cabbage. Arteries watch out, here comes some real southern cooking!

This is a favorite in my home, even my 8 and 12 yr old boy slove it. Instead of boiling the cabbage, add the cabbage, onions, smoked sausage in a fry pan with about 2 tbsp bacon drippings...toss and fry on medium heat until cabbage is just soft. I use the butterball turkey smoked sausage. So good. :)
Cook sausage and onion in pan til brown, do not drain.
Meanwhile, cover w/water and boil cabbage leaves til soft, 4-5 minutes.
Cut up and add cabbage to sausage/onion mix and saute to let cabbage soak up everything.
Stir frequently. Add Lawry's, salt and pepper to taste.