Smoked Salmon Scrambled Eggs and Chives on Pancakes
robd16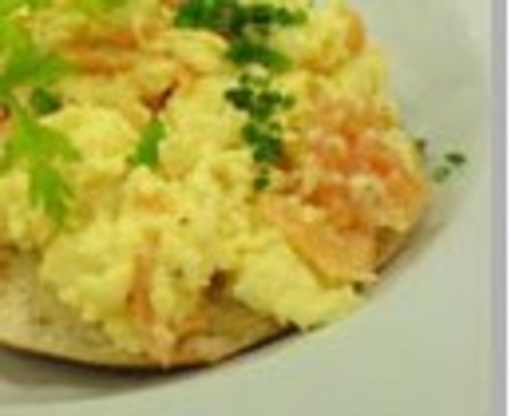 An indulgent and luxurious champagne breakfast or brunch dish that even those who don't like the texture of smoked salmon will love because it is cooked in with the eggs. I think the scotch pancakes (regular pancakes in the USA) are essential as the slight sweetness offsets the saltiness of the salmon perfectly.
6

eggs

200

g smoked salmon (can use trimmings)

20

g fresh chives (1 large handful, don't even consider using dried)

2

tablespoons double cream (heavy, can use water or milk)

1

pinch salt (remember the salmon is quite salty already)
1⁄4 teaspoon fresh ground black pepper (to taste)

25

g butter

To serve

3

scotch pancakes, per person (toasted and buttered)
In a bowl beat the eggs and using a pair of scissors, snip the chives (save some for garnish) and salmon into bite size pieces into the bowl.
Add the cream salt and pepper and beat well until thoroughly combined. This can now be stored in the fridge until ready to use for 24hours if necessary.
Melt the butter in a pan over medium heat, add the egg and salmon mixture and cook gently stirring every minute or so. Do not overcook, remember to take into account residual heat after eggs have been taken off the stove.
Serve on buttered pancakes with a sprinkle of chives for garnish and a glass of champagne if you wish.
Beautiful!