ImPat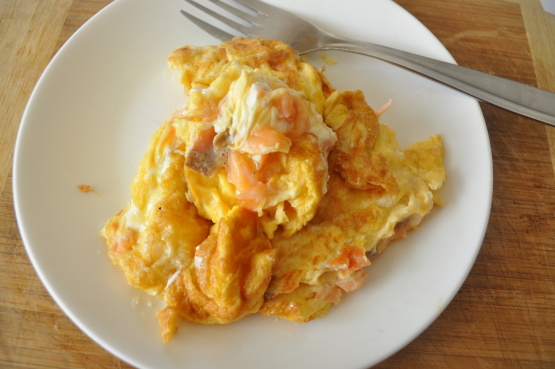 Top Review by ImPat
A delicious breakfast thank you Rabia. I did it as 1 serve using 2 large eggs which I gave a light whisk but my pan was just a tad to hot for by the time I got the light cream cheese and smoked salmon the bottom had set so it turned out more as an omelette than a scramble but still an excellent and filling breakfast with a slice of buttered wholemeal/wholegrain toast.
Heat oil in a nonstick skillet over medium-high heat for 1 to 2 minutes.
Add eggs and allow to set, 10 seconds.
Sprinkle salmon, cream cheese, and chives over eggs.
Scramble until just cooked, about 1 minute, being careful not to overcook. Season to taste with pepper, if desired.
Serve hot.