Nif_H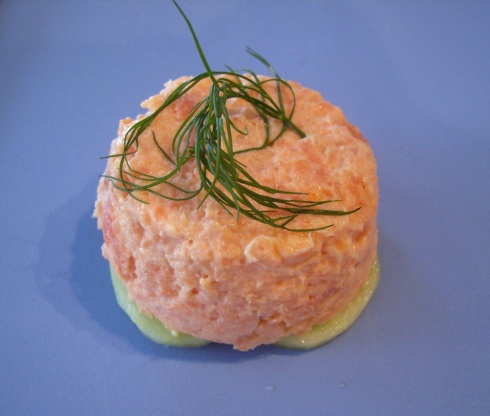 An elegant, delicious and quickly prepared entrée that uses ingredients which most guests will enjoy and which will mix and match well with most main courses. It is also one that is largely prepared beforehand with just a few steps to complete in the five minutes before serving, while the pita bread is in the oven warming. I have had this recipe in my files for years and I no longer remember where it came from. I have also modified it over the years, but because I keep my recipes in Word files, what was the original recipe and what are my modifications are also lost in the mists of time - or perhaps more appropriately in the unfathomable depths of cyber space.

Top Review by Nif_H
What a decadent little treat this is! I only made this for 1 so I didn't bother using the food processor ~ I just stirred it really well! I would cut back a bit on the shallots, but mine are quite large so that may have been the problem. I had this with crackers. Made for 1,2,3 Tag. Thanks bluemoon downunder! :)
Reserve a third of the smoked salmon.
Process the remainder in a food processor with the crème fraiche, butter and lemon rind zest.
Place in a bowl and mix in shallots and lemon juice.
Finely dice the reserved salmon and spoon into four lightly oiled ramekins.
Add rilettes mixture, pressing down lightly to smooth the top and remove any air pockets.
Cover with cling wrap and place in refrigerator until ready to serve.
Peel and thinly slice cucumber, lightly pressing slices into top of each rilette. If using a Lebabese cucumber, peeling the cucumber is optional.
With a knife, carefully work around the inside edge of each ramekin to release each rilette from the sides of the ramekin.
Invert each ramekin onto each serving plate so that that the cucumber is on the bottom.
Top with a fresh herb sprig.
Serve with warmed triangles of pita bread.
Alternative ingredients: You can use 3 tablespoons of sour cream instead of the crème fraiche, and you can use 4 sprigs of chervil instead of the dill.
Chef's notes: A classic rilette is prepared with fatty mixtures of pork or duck. This is a modern, healthier version, particularly if you use a low-fat crème fraiche or a low-fat sour cream. You may like to serve these rilettes on a bed of lettuce.