Smoked Salmon Rice Paper Wraps
PaulaG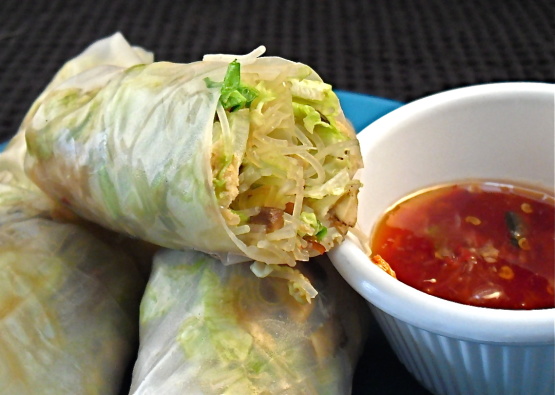 Nice little healthy dish I knocked up that came out well. Has a fair bit of room for varying ingredients depending on what you have on hand, but try to keep the soy and sweet chilli sauce because it does quickly marinate into the other ingredients well. Omit the capers for a less salty taste, and remember that raw rice paper sheets are very soft so this is something you need to eat with a fork and is not a 'finger food'.

Double yum!!! DH and I love these. I made as written and like PaulaG I did cut the noodles a little before adding them to the mixture. I have made these twice already and definately will be making again this summer. Thank you for posting and this is going into my Favorites of 2014. Served with sweet chili sauce. Made for Aussie Swap #86.
Bring a pot of water to the boil and cook rice noodles for 3 minutes. Be fairly generous with the amount of water like you are cooking pasta.
Remove from heat, allow to rest a few minutes, drain and place in a bowl.
Toss through salmon, olive oil, capers, mushroom, cabbage, soy sauce, chilli sauce and pepper and leave to cool in refrigerator for 10 minutes. You could also do in advance and leave longer.
Soak rice paper sheets in warm water a few minutes until soft.
Place mixture evenly in middle of rice paper sheets using a fork so any excess liquid is left behind.
Wrap by folding end closing and furthest away from you inwards, and then wrap around the outside pieces to form a roll.
Lightly pour a little left-over sauce over the top and serve.