gemini08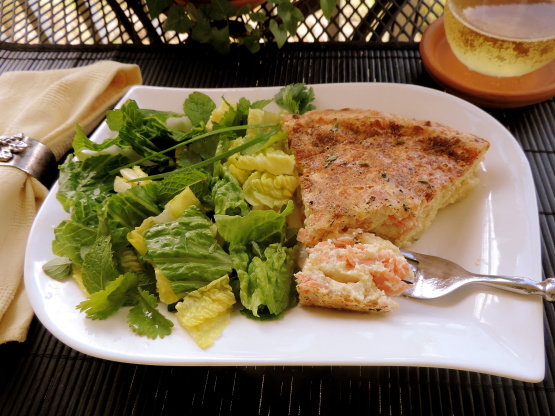 A perfect dish for a special brunch or light dinner! To insure that the crust does not get soggy and the custard is fully cooked, besure to add the filling to a warm, partially baked crust.
Both hubby and I really enjoyed this. I used a store-bought pie crust, and there was too much custard for it. If you do the same, cut the custard in half. Next time, I'll make my own crust and use my deeper pie dish. I used milk instead of cream, as I had no cream. It tasted great anyway. Be sure to use dry smoked salmon. I don't think wet smoked salmon would work very well. I served this with steamed/buttered asparagus, and the combo was great. This is a keeper for sure.
Preheat oven to 375º Farenheit.
Bake pie crust shell for 10 minutes.
Reduce oven temperature to 350º.
In a large bowl whisk together eggs, milk, cream, nutmeg, salt and pepper.
In small bowl mix together, Gruyere, Parmesan, shallots and flour.
Sprinkle the cheese mixture and salmon over the bottom of the WARM pie shell.
Pour egg mixture into warm pie shell.
Bake on middle shelf until quiche is lightly browned and knife inserted 1 inch from the edge comes out clean, 40 to 50 minutes.
The center should be set, but soft like gelatin (it will set up after removing from the oven).
Transfer to a baking rack and cool.
Serve warm or at room temperature.