gemini08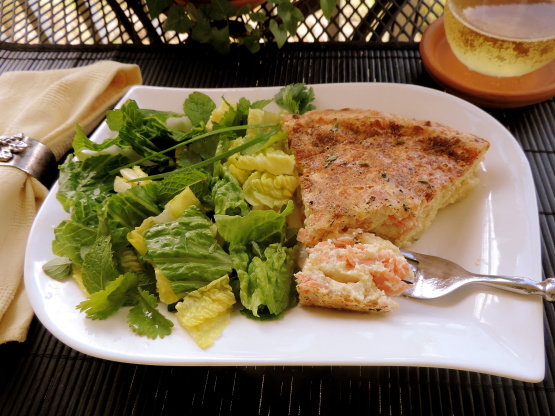 A perfect dish for a special brunch or light dinner! To insure that the crust does not get soggy and the custard is fully cooked, besure to add the filling to a warm, partially baked crust.
No doubt, it is now my standard from which I make all other quiches. I made it as a Christmas gift for several neighbors to their delight. someone said "something from the heart and hearth" and I thought that was nice. I did find as someone else said that there was a lot of liquid so I increased the size of my quiche dish. It rose like a souffle - and the author is right - it's more like a custard. I would serve fresh as it deflates after awhile. The recipe as it was phenomenal. Thanks very much.
Preheat oven to 375º Farenheit.
Bake pie crust shell for 10 minutes.
Reduce oven temperature to 350º.
In a large bowl whisk together eggs, milk, cream, nutmeg, salt and pepper.
In small bowl mix together, Gruyere, Parmesan, shallots and flour.
Sprinkle the cheese mixture and salmon over the bottom of the WARM pie shell.
Pour egg mixture into warm pie shell.
Bake on middle shelf until quiche is lightly browned and knife inserted 1 inch from the edge comes out clean, 40 to 50 minutes.
The center should be set, but soft like gelatin (it will set up after removing from the oven).
Transfer to a baking rack and cool.
Serve warm or at room temperature.