Sara 76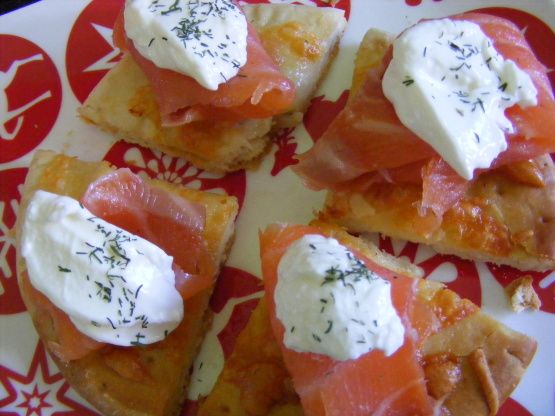 This pizza makes a lovely light dinner, or is perfect for serving as finger food at a party. I have not posted a pizza base recipe, so you can either make your favourite, or buy pre-made ones. It serves 4 as a meal, or makes 16 pieces as a finger food.
Combine olive oil and garlic. Brush over pizza bases. Sprinkle with cheese.
Bake at 150C until base is cooked, and cheese is melted, about 20 minutes.
Remove from oven, and cut into quarters.
Cut each slice of salmon in half, so you have 16 pieces, about 5cm square. Roll each piece of salmon, and place 1 slice on each slice of pizza. Top salmon with a small dollop of sour cream, and top with a very small amount of dill.