GaylaJ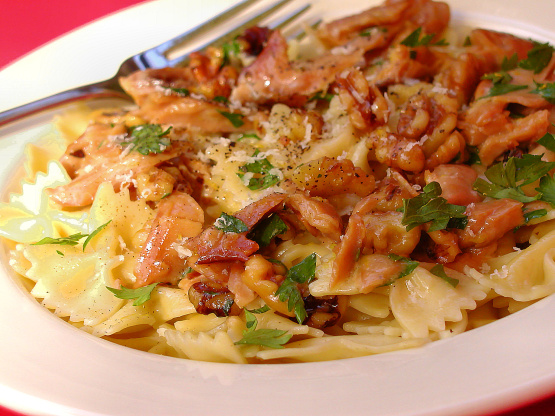 This was something I did when unexpected guests arrived, and it went down well.

Top Review by GaylaJ
This was an enjoyable, but quick and simple lunch. I made half the recipe, roughly halving all ingredients except for using the full garlic clove and about 2 ounces smoked salmon. I used about 3/4 ounce walnuts and topped with freshly ground black pepper and freshly grated Parmagiano Reggiano. Thanks for sharing your recipe!
Bring salted pasta water to a boil and while the pasta is cooking, sauté the garlic in the oil in a skillet--but don't burn it.
Add the walnuts and cook 2-3 minutes, then add salmon and season lightly.
Add the cream and heat through.
Drain the pasta and turn it into the skillet, toss and add the parsley, and serve.
Top with freshly grated parmesan if desired.