awalde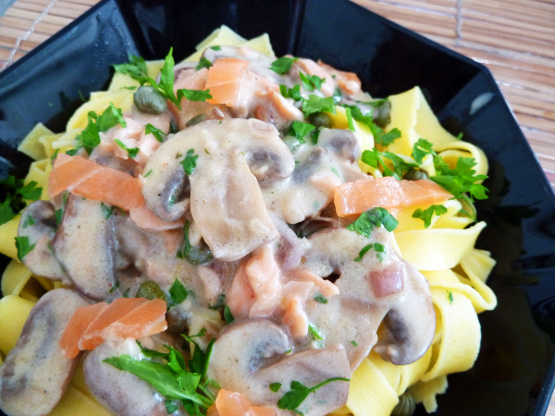 This is an awesome pasta that is quick to make and very satisfying. I first copied a recipe from Bon Appetit and then combined it with several recipes from my cookbooks. Over the years I have tweeked it to the recipe it is today. I have used fresh salmon in place of smoked salmon when I have not been able to get smoked salmon, and it was very good as well. Served with a salad it makes a very lovely meal.

A family friend had given us some fresh salmon he caught and I was looking for a way to use it apart from doing the regular grilled salmon and rice or mash. I came across this recipe and I'm so glad I did! I followed the rest of the recipe as stated. The capers gave it a lovely, tangy flavour. Even my daughter who is picky about fish loved it. Thanks for a keeper!
Cook Pasta as directed. Drain.
Meanwhile, in a large skillet, heat oil. Add mushrooms, shallots, garlic and cayenne. Saute until veggies are tender.
Add white wine and bring to boil. Add cream and bring to boil. Let simmer for 3minutes.
Add lemon juice, lemon zest and salmon. Bring to boil and let simmer 1 to 2 minutes.
Add capers, parsley, salt and pepper. Mix well.
Pour salmon mixture onto hot drained pasta. Toss to mix. Add Parmsean and toss well. Let set for 2 minutes as pasta will absorb any extra liquid.
Serve.