Smoked Salmon (Or Trout) Salad in Pita Pockets

This great no-cook recipe from the *Best Seafood Recipes* cookbook of the Australian Women's Weekly cookbook series is packed w/flavor + texture & perfect for a light lunch, patio party fare & to-go occasions (Time includes 15 min to shred, grate & chop ingredients). *Enjoy*
Directions
Remove any skin or bones from salmon (or trout) & flake or chop the flesh.
Combine salmon (or trout) w/lettuce, sprouts, carrot, shallots & artichokes in a lrg bowl.
Cut pita pockets in half, spread ea half w/1 tsp mayo & stuff w/equal amts of the salmon (or trout) mixture. Done!
NOTE: Salmon (or trout) mixture can be made several hrs b4 filling pita pockets & kept stored in refrigerator (covered).
Reviews
Most Helpful
Fabulous lunch salad! I made this almost exactly as posted except, since I expected the salad to last a few days in the refrigerator, I did not mix in any lettuce. I mixed all the other ingredients together (I used salmon), and on the day I was eating it, I packed some lettuce with my pita to stuff with the salad. It was absolutely delightful! I never would have thought of these ingredient combinations. Can't wait to try it with trout! Thanks for sharing.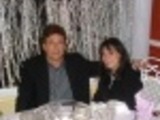 I loved this salad! It was a perfect "no-heat" dinner on a day where the temperature reached 102 degrees! I combined the salmon mixture with the mayo and we ate it on a bed of romaine lettuce. I also added some sliced avocado and tomato. We topped it off with a little Creamy Italian dressing and it was wonderful! Thanks so much for sharing this great salad recipe, twissis!