Smoked Salmon on Irish Soda Bread Crostini
bobpet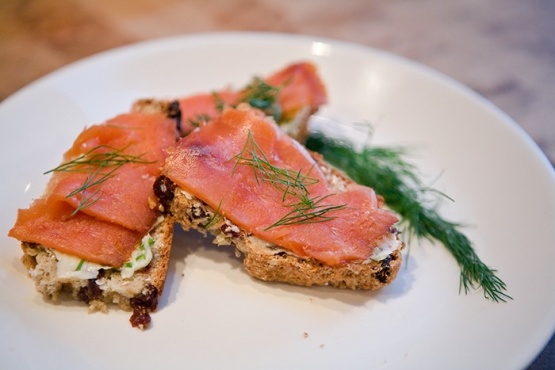 This is the PERFECT appetizer to kick off your St. Patty's Day meal. Think outside the box and give this unexpected appetizer a whirl. The crumbly bread with the tangy raisins and hint of caraway paired with creamy chive butter and cold smoked salmon goes perfectly with a black and tan or crisp white. Follow it up with a corned beef and cabbage main course and your Irish eyes will DEFINITELY be smiling. Based on a Food Network Test Kitchen Recipe with my spin on it.

I can't believe I forgot to rate this! This is a wonderful appy for St. Pat's and I plan to eat it every year from here on out! Toasting the savory/sweet soda bread gives it a nice crunch in contrast with the creamy topping and supple smoked salmon. I'm completely hooked and sorry St. Pat's comes but once a year!
For the bread:.
Preheat the oven to 375 degrees F.
Put the oatmeal in the food processor and pulse til finely ground.
Pour into a bowl and add flour, sugar, baking soda, salt, raisins and caraway seeds. Stir well to combine.
Pour buttermilk in and stir til combined.
Shape the dough into a 6 inch round and put onto a baking sheet.
Bake in top half of oven for 30-40 minutes, until lightly brown.
When tapped, the bread will give off a firm, hollow sound. Let cool.
For the crostini:.
Mix the butter and chives together.
Once cool, slice the soda bread into slices and toast either in toaster or on baking sheet under broiler for a few minutes each side.
Spread each slice with chive butter, top with smoked salmon, and cut each slice in half or thirds.
Garnish each piece with dill.
Enjoy!