3 Reviews
Even though I couldn't get the cocktail bread, I made the spread and used "everything" bagels for our breakfast. Fabulous flavor with the fresh herbs and the salmon. I will definitely make this again.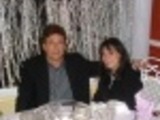 Yum! Made this up as an after-school snack the other day and we all loved it (I can't have smoked salmon in the house - my kids will eat it up in a second!).

We loved this! I had to use dried herbs & used a ratio of 1 tsp to ea tbsp of fresh herbs.I used a very dense rye bread I bought at the bakery & our own smoked salmon my DH caught & had smoked. I topped some "fingers" w/capers because I like the combo. Hope I got a good pic for you of this yummy treat & thx for posting.

Smoked Salmon Fingers